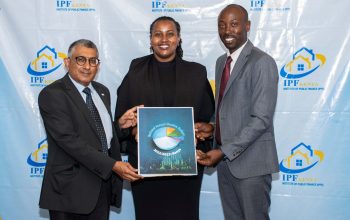 The 2022/23 National Annual Shadow Budget by IPF for Kenya is the second edition, and it is one of its kind in the country. It is prepared to support engagement between the state and non-state actors in the budget process, enhance access to budget information, particularly on revenue and public expenditure performance, public debt contracting and servicing. 2022/23 National Annual Shadow Budget by IPF comes at a time when the Covid-19 pandemic has caused great damage to the economy, businesses, and households' livelihoods to which about 2 million people were pushed into poverty.
The National Treasury projects a GDP growth of 6 per cent in 2021 after a contraction of 0.3 per cent in 2020 and a growth of 5 per cent in 2019. However, this growth faces threats from ongoing droughts affecting 23 arid and semi-arid counties where more than 2.3 million Kenyans need relief food and other humanitarian assistance. In addition, the inflation rate in Kenya has remained high, at 5.8% compared to the average of 3.5% for Sub-Saharan Africa whose main driver is the food and energy prices.
This is further complicated by the weakening of the Kenya shilling in comparison to major currencies particularly the US Dollar and Sterling Pound. The shilling has depreciated by about 11 per cent between November 2016 and November 2021 against the dollar. The Central Bank's expansionary monetary policy has supported a decreasing trend of interest rates for the period August 2016 to August 2021.
Moreover, disruptions to the business environment from the impact of COVID-19, high levels of employment especially among the youth, high cost of food prices and uncertainties surrounding the general elections scheduled for August 2022 and high public debt levels where the International Monetary Fund (IMF) continues to assess Kenya as being at a high risk of debt distress with constrained fiscal space are among the key things to monitor going forward.
Find the full report here.